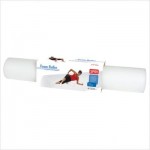 Foam Roller
Full Round, 36″ x 6″
A simple, effective balance and alignment tool for developing core stabilization, lower body balance and stamina, and body awareness.
One free instruction sheet per order.
Click here to purchase from Amazon
Slippery Stuff
Water-Based Gel Personal Lubricant
Slippery Stuff Gel personal lubricant, enhances the pleasure of human contact. When using this unique gel with condoms it increases sensations. Slippery Stuff® is: water based, water soluble, safe, hygienic, odorless, non-staining, and long lasting.
Click here to purchase from Amazon
Gaiam Balance Ball Chair
The Balance Ball Chair is an effective tool for strengthening core muscles and improving spinal alignment.
Click here to purchase from Amazon
Carlson Key-e Suppositories, 24-Pack
KEY-E Suppositories are natural soothing inserts prepared with a base derived from coconut and palm oils. Each suppository supplies 30 IU of natural source vitamin E. Non-laxative. For rectal or vaginal use. Gluten free.
Click here to purchase from Amazon
Prelief Dietary Supplement Acid Relief Tablets – 60 ea
Prelief is a dietary supplement for use with acidic drugs, acidic foods and beverages. It is a dietary intervention used to reduce the acid of these ingestibles for persons who identify acid discomfort.
Click here to purchase from Amazon
Aura Cacia – Peppermint Essential Oil, .5 fl oz liquid
From Aura Cacia
Ingredients: Mentha x piperita (peppermint) oil
Add a few drops of oil to your favorite lotion, massage oil or aromatherapy diffuser.
Instantly recognizable, peppermint oil has a very potent minty aroma that produces a cooling and refreshing sensation
Click here to purchase from Amazon
Vaginal Dilator Set – Natural Shape
From Vaginismus.com
Vaginal Dilator Set Simply a better product: These dilators are smooth and comfortable, easy to control, light-weight, and safe. Medically Safe & Convenient Each set includes four graduated dilators, universal easy-grip handle, lubricant, and soft cotton carrying pouch with care instructions. A silky-smooth finish ensures maximum comfort while the gently curved shape eases entry and transition up in size. Convenient handle improves insertion control while keeping lubricant off one's hands.
The product is medically safe for individual use (see your doctor for more information) and easy to clean with soapy water. For storage portability and privacy, dilators fit one inside another forming a convenient, small package. Note to Physicians: These dilators are medically graded (FDA INT), non-toxic and latex-free. Highly effective for post-surgical recovery programs as well as for treating vaginismus, dyspareunia, vaginal narrowing and other similar gynecological conditions. [CPT Code: Procedure 57400 or 58999, HCPCS Code: E1399, Supplies: 99070]
Click here to purchase from Amazon
Heritage Products Castor Oil – 32oz
Heritage store castor oil is used as an emollient to soothe the skin. Keeps skin moist. Our pure castor oil can be taken internally. Use castor oil for virtually every aspect of health.
Click here to purchase from Amazon
Dr. Bronner's Magi
c Soaps Pure-Castile Soap
18-in-1 Hemp Unscented Baby Mild, 32-Ounce Bottles (Pack of 2)
From Dr. Bronner
Made with Organic Oils! No detergents. 100% Vegan. Health is our greatest wealth. Oregon Tilth Certified Organic. No foaming agents. Enjoy only 2 cosmetics, enough sleep and Dr. Bronner's Magic Soap to clean body-mind-soul-spirit instantly uniting One! All-One! Absolute cleanliness is Godliness! For facial packs, scalp and soothing body rub, add dash on bath towel in sink of hot water. Wring out. Lay over face and scalp. massage with fingertips. Repeat 3 or 4 times 'til arms, legs and all are rubbed, always towards the heart. Rinse towel in plain hot water and massage again. Breath deeply! Health is wealth. Within 9 minutes you feel fresh and clean, saving 90% of your hot water and soap, ready to help teach the whole human race the moral ABC of All-One-God-Faith! For we're All-One or None! Not animal tested. Dilute: Enjoy 1 soap for 18 different uses! Guaranteed no synthetic tea tree oils and 100% vegetarian. Super mild castile has outstanding water softening and cleansing powers. Preferable to harsh soap and defattening synthetics. It does no cut dirt, but dissolves it. It is the mildest pleasant soap you ever used. Enjoy body rub to stimulate body mind-soul-spirit and teach the essence moral ABC uniting all free in the shepherd. 100% biodegradable! Made in U.S.A.